We know abortion ends the life of a unique individual and hurts mothers in the process.
Now, states across the country are considering ballot referendums that could add the "right to an abortion" through all nine months in their state constitutions. Current and impending pro-abortion ballot initiatives are evidence that our communities have not yet created the necessary foundation to ensure abortion remains unthinkable and unavailable.
In fact, 73% of our neighbors report being unaware of their local Pregnancy Help Center. If women in our community do not know where to go for help, then how can we expect to make our cities abortion-free? Our team is ready to help you close this communication gap, offer real options to women, protect children from abortion, and change minds about abortion in your state.

Don't wait any longer to protect mothers and children in your city.
Take back your town.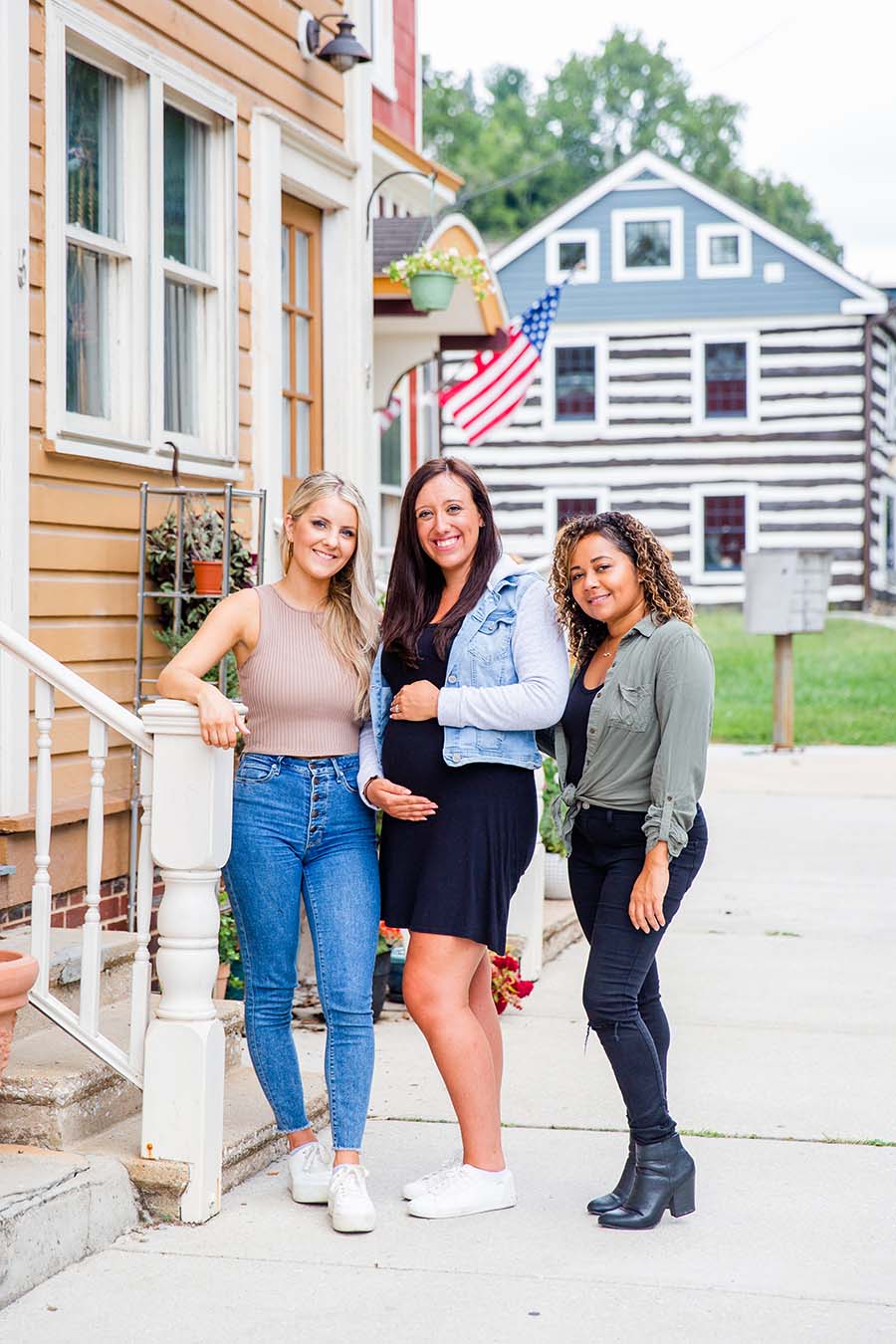 Apply to start an "Abortion Free City" Campaign.


We'll reach out to schedule your FREE consultation call with one of our team members.


Once approved, you will be placed into a

cohort

of your peers and other leaders across the country. You'll have the opportunity to join monthly professional development sessions and strategy calls for ongoing support.


Together, we'll evaluate your community, set goals, decide on strategies to deploy, and create your custom materials.



The rest is up to you!

Your city will go as far as you're willing to take it.
WHAT YOU WILL RECEIVE
WHEN YOU START A CAMPAIGN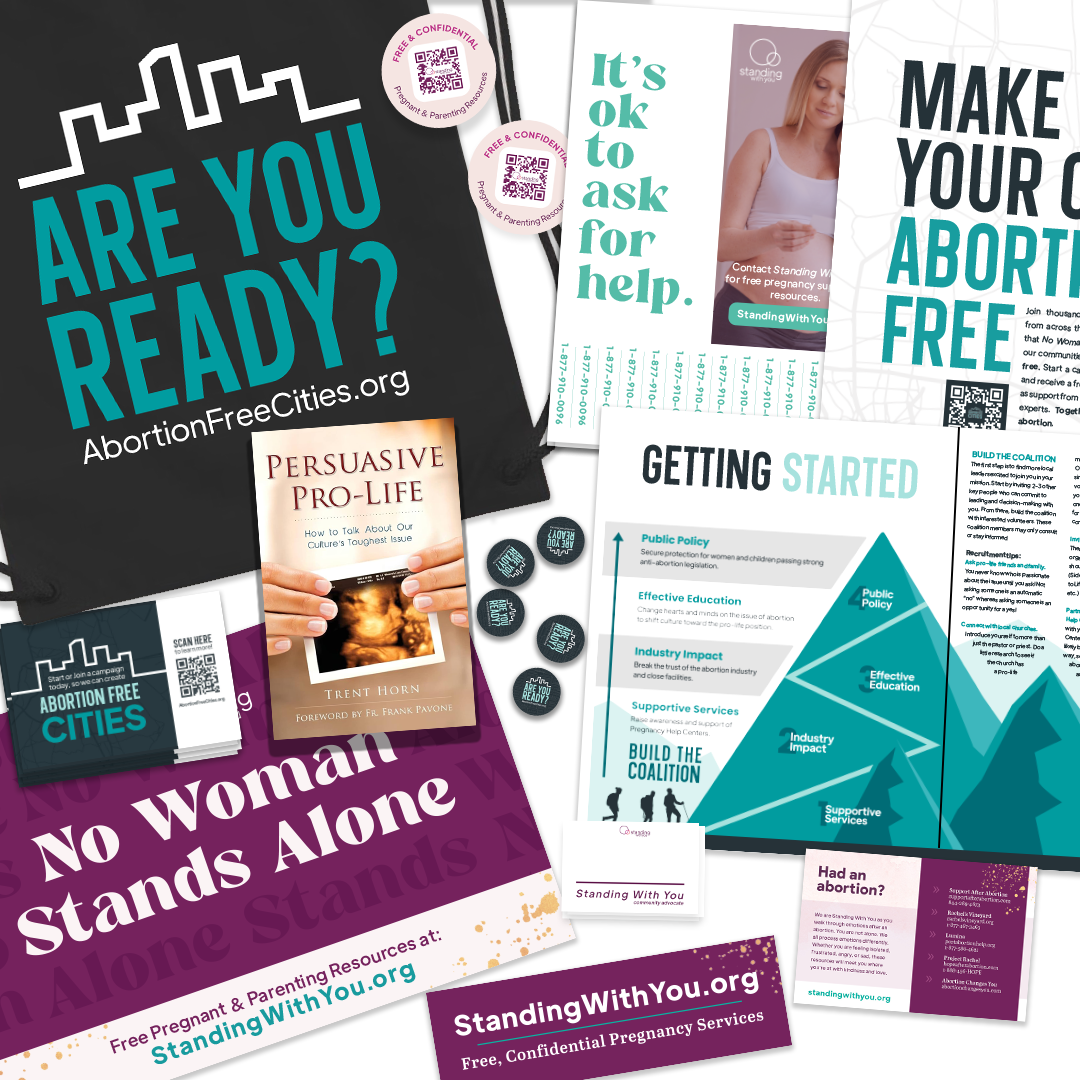 ✔ Abortion Free Cities Drawstring Bag
✔ (500) Customizable Door Hangers
✔ (10) Standing With You Resource Yard Signs with Stakes
✔ Standing With You Pregnancy Help Brochures
✔ Abortion Free Cities Recruitment Cards & Flyers
✔ Abortion Healing Info Cards
✔ Campaign Starter Guidebook
✔ Pro-Life Apologetics & Leadership Books by Trent Horn
✔ Standing With You Community Flyers
✔ Campaign Starter Flyers
✔ Are You Ready? Pins
✔ Standing With You Car Magnets
✔ Standing With You Name Tags
✔ Campaign for Abortion Free Cities Community Guide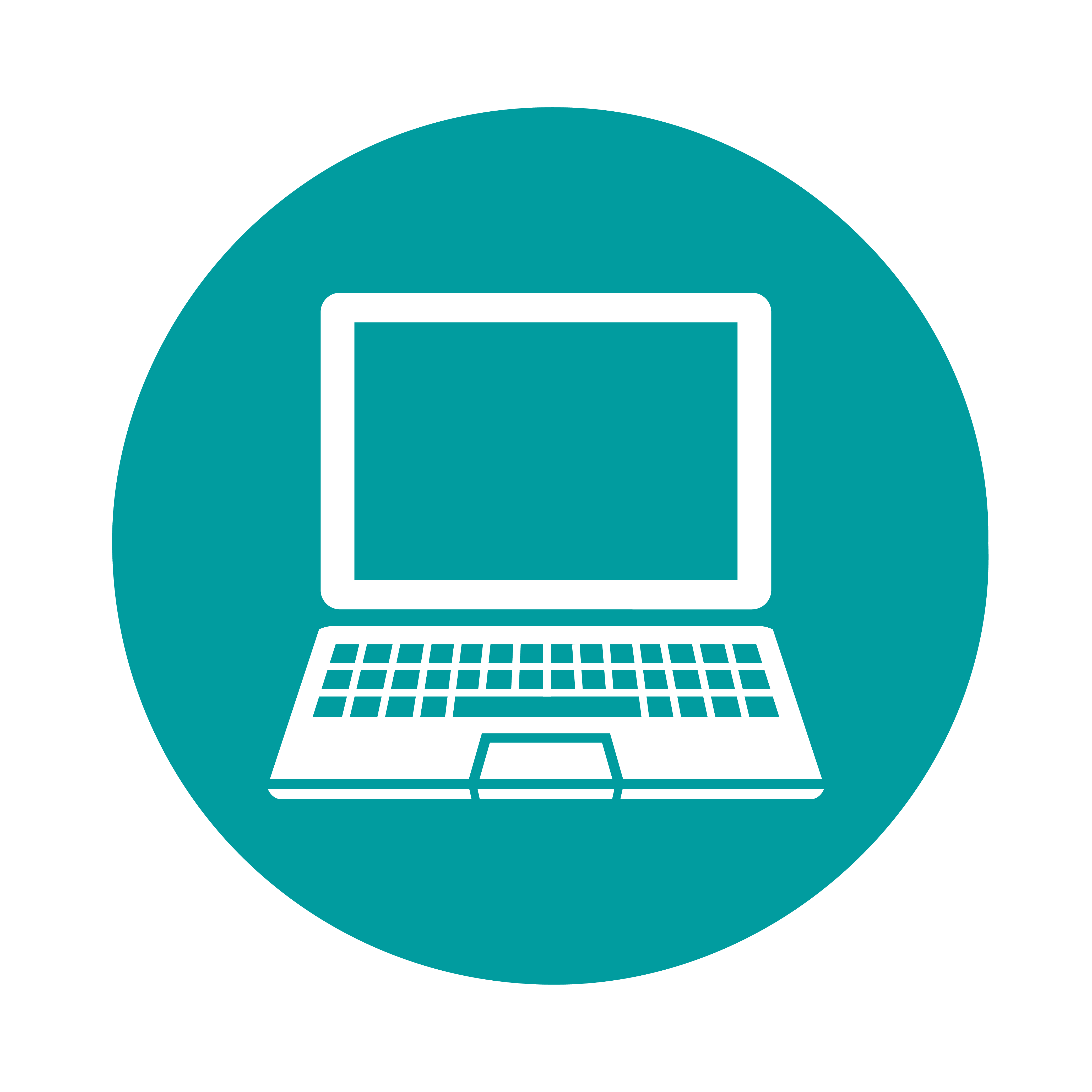 A CUSTOM CITY LANDING PAGE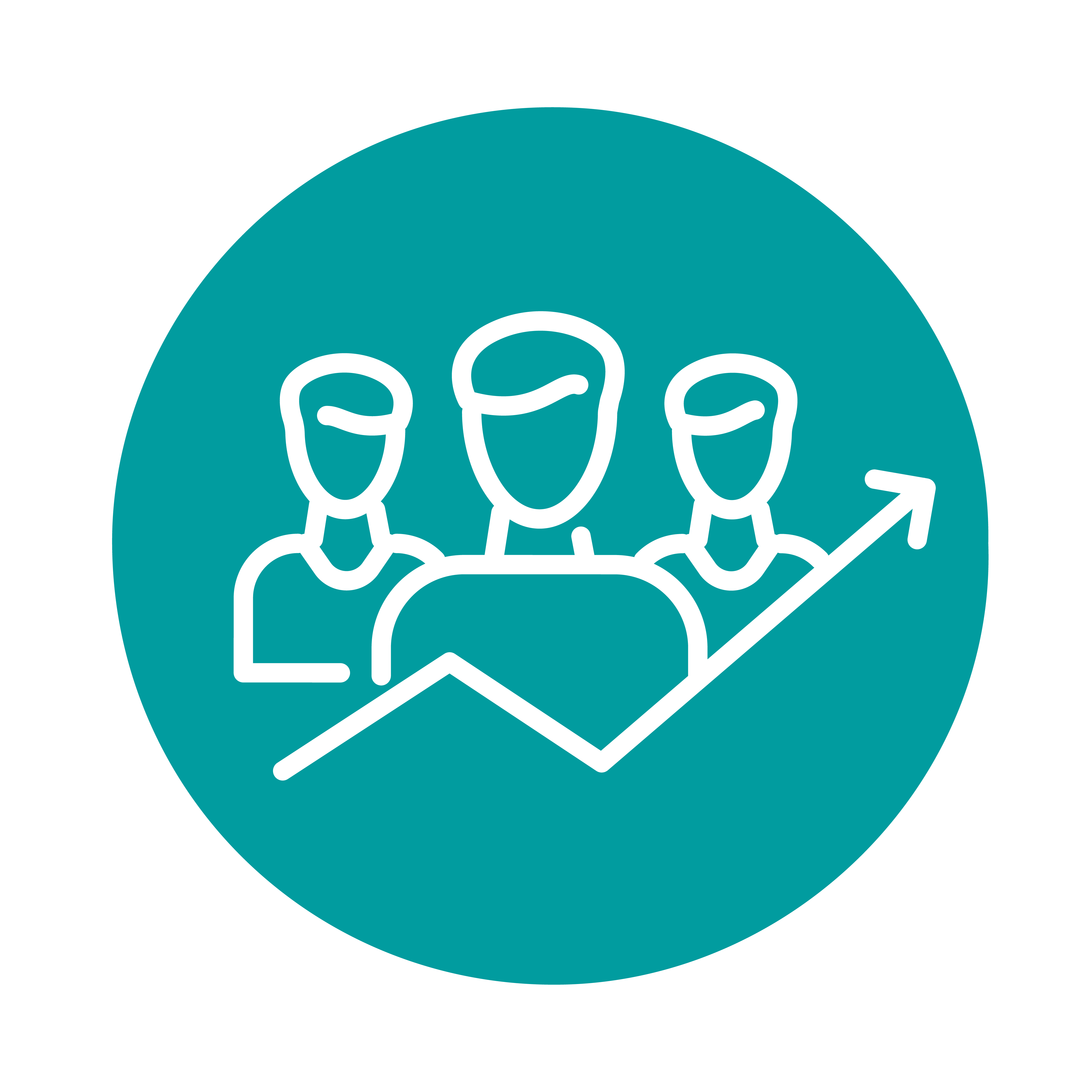 LEADERSHIP DEVELOPMENT &
SMALL GROUP SUPPORT
WHAT ARE OTHER LEADERS SAYING?
"Just last week, we knocked on the door where a woman answered in tears because she found out she was pregnant moments before and didn't know what to do. Life-affirming supportive resources showed up, right on her doorstep!"

– Portland, Oregon Campaign Leader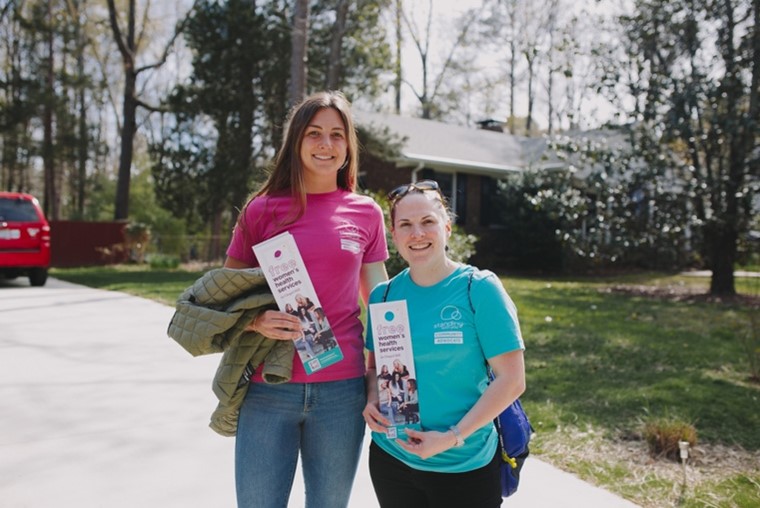 "We have faced a lot of pushbacks in Allentown since the reversal of Roe v. Wade. However, our efforts against the Allentown City Council have shown us that when the pro-life movement partners together in Allentown, we get a lot done. I am confident that God will continue to guide the Campaign for Abortion Free Cities and lead us to all work together; all we need to do is give our "yes"!

- Anna Gidosh, Allentown Campaign Leader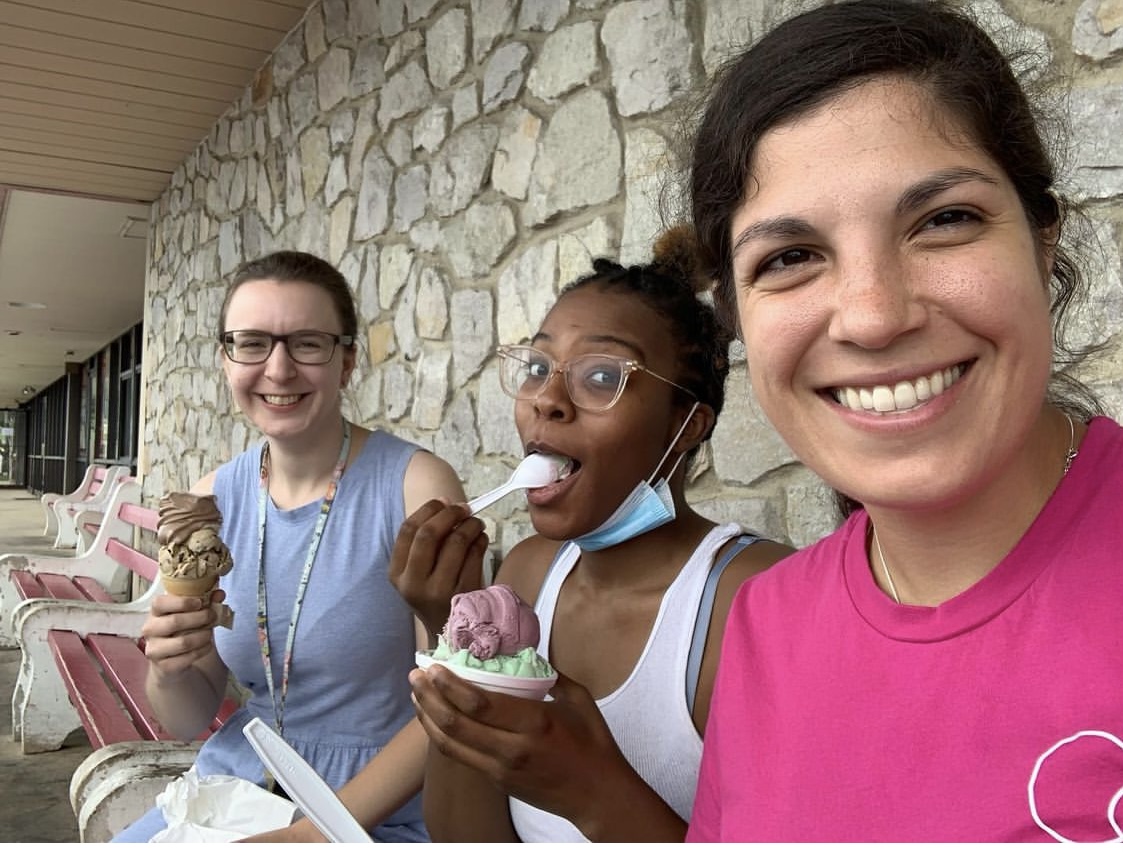 "Our Summer of Service team in Richmond, Virginia was able to provide for neighbors right at the door. One conversation we had was with a young mom struggling to provide for her children. We gave her diapers, wipes, & baby food as well as a flyer with a QR code for Standing With You. As she chatted with our students, she scanned the QR code and made an appointment with the local pregnancy center. We also spoke with a woman whose pregnant daughter was living in a hotel after her husband left her when she became pregnant. We were able to pass on information for her for a local maternity home."

- Natalee Wilson, Richmond Campaign Leader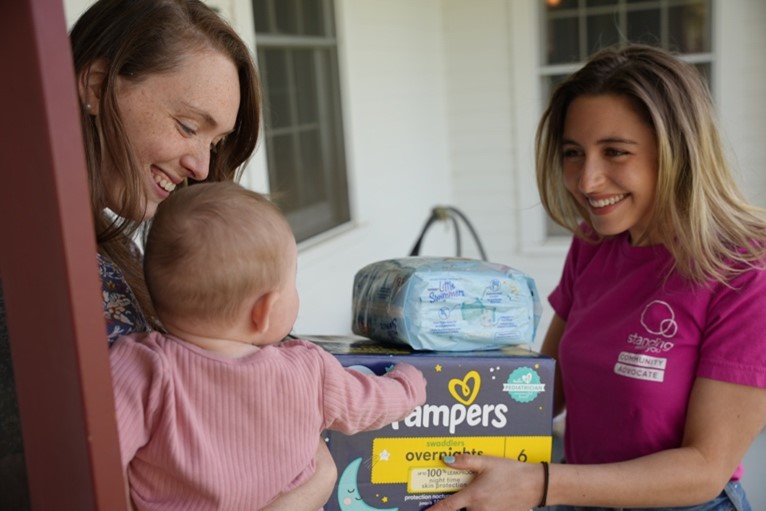 "We worked day and night to activate our community and spread awareness about the dangerous health violations at 'Clinic for Women.' We spent around 1,700 volunteer service hours knocking on doors, sidewalk counseling, flyering the neighborhood, tabling at local festivals, and talking to community leaders. Eventually, 'Clinic for Women' announced that they are moving out of state, and they finally closed their doors last August."

- Benjamin Ice, Indianapolis Campaign Leader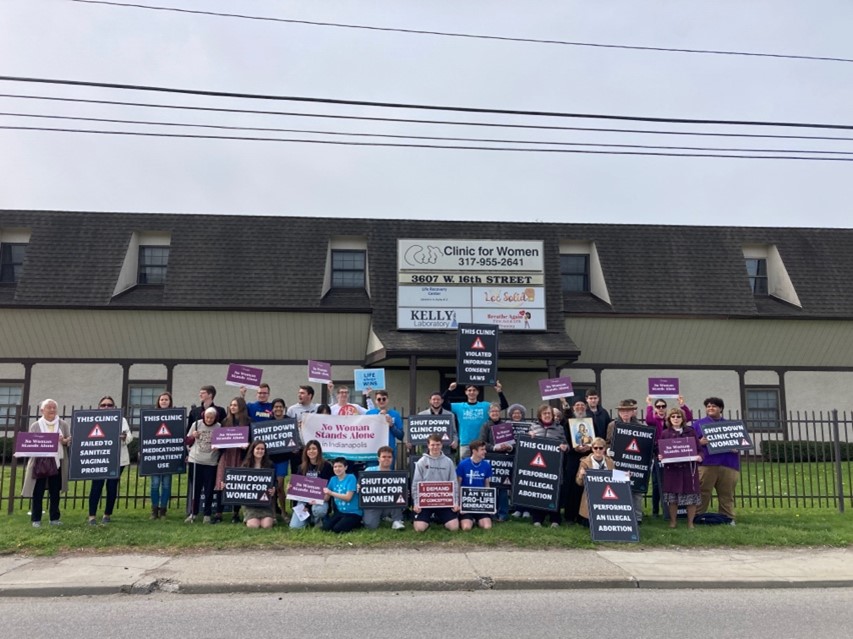 YOU can step up to bring the Campaign for Abortion Free Cities to your community, and our team is ready to support you along the way. Our team, along with national and local partners, will be there to provide the resources and professional training you need to launch a successful campaign.